Brrr its cold in here! I say there must be winter in the atmosphere!
Are you starting to feel those winter blues… and feel your yearly hibernation creeping in? Although we haven't hit the winter season yet, the colder weather can be downright depressing. Days are short (like really really short), which makes it almost impossible to muster the strength to do anything besides turning on Netflix. Don't get me wrong, although I push myself towards a more active lifestyle, I fully approve of those lazy Sundays where I don't wear pants. But not all the time.
Despite the frigid November air, there are some days you might have inkling to do something a bit more adventurous. While your friends might try to con you into a get in loser, we're going shopping type of activity, I think it's about time you tried something new!  There are plenty of ways to be active in fall and winter, even if the weather turns cold. You can stay in shape and have fun while you're at it.
Here are my tips and tricks to prevent hibernation!
The world is connected. If there is a fun event happening outdoors in your city, someone, somewhere has written about it. Case and point: this past weekend, my girlfriends and I pushed ourselves to do what was marketed as, "the funnest run in the city".
During the merriest time of the year, the 5 km run was held an hour before the Toronto Santa Claus Parade. You get to run the same route as Santa!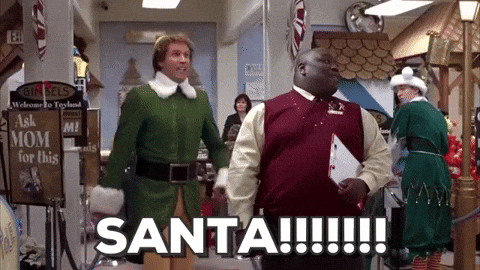 Not only do you get to wear ridiculous costumes like our onesies, but you get to giggle your way through an actual run. We burned major cals, but we had a great time doing it. Kids high-fived us along the way, and other costumes kept us giggling and motivated to not stop. Running a 10 minute mile (which we did) helped us burn almost 250 cals in less than 30 mins.
Don't get me wrong… this was hard. But it also inspired us to keep up our Sunday jog's, working our way to a 10KM run in May.
My girlfriends and I are pledging to be more active in the Winter by looking up fun events that we can do together. We get to gossip, burn some cals, and grap our PSLs post-activity. All while doing it together!
SKATING IS NOT JUST FOR THE KIDDIES
My absolutely favourite rink in the city opened up on the weekend. Harbourfront's Natrel Skating Rink is now fully operational and it's waiting for you!
November is the best time to go skating. Not only are there no kids during the day (yes school), but it's not that cold out (so you can potentially leave your Canada Goose's behind), and it's not packed yet. Besides this, the views are stunning.
I mean, skating and taking selfies is a definite advantage,  but did you know that you can burn around 250 cals for 30 mins of skating?? That's if you weight approx. 150lbs. If you weigh more, you can burn more!
NOT to mention, which I will likely be dedicating an entire blog post too… the new Downtown Skating Trail located beneath the Gardiner is almost ready to be used by the public!
Skating in Toronto, at night, or doing the during, is a rite of passage in Toronto. Trust me – grab your skates, hit the ice, and spend some time with your family and friends at a Toronto skating rink. Don't miss these ones below!
Nathan Phillips Square
Gardiner Skating Trail
Harbourfront Centre Natrel Rink
Harry Gairey Rink
Christie Pits Rink
BUILD HIKING ACTIVITIES INTO YOUR GET TOGETHER 
The holidays are a time that friends and family get together and do all kinds of love-y dove-y things. But be different. Encourage your guests to bring workout clothes suitable for walking or perhaps activities that you can walk to.
Ontario is a dream destination for those who are in love with the outdoors. There are hiking trails for all skill levels – beginners (like Lauren!) up to experts (like Jessica!). Yes, summer and fall are ideal times to go hiking because it's warm and sunny, but those who have experienced Ontario hiking in the winter understand the beauty and draw.
There are a vast amount of close trails to Toronto that I would recommend to you this winter. One of them is Dundas Peak and Spencers Gorge. While it's absolutely amazing in the fall, its simply breathtaking in the Winter.
On a random Sunday in January last year,  my friends and I were getting together for brunch anyways, so I suggested that we do a quick hike before we feast. We managed a brisk 5 KM hike which made us extra hungry for brunch after! It's called positive reinforcement people. Reward yourself with treats after you get outdoors.
GET A DOG. ACTUALLY GET SEVERAL DOGS.
Seriously. I mean obviously don't just get a dog to stay active. But if you have a dog, it doesn't matter if it's -30 and you blow away, you have to walk your doge. I mean dog.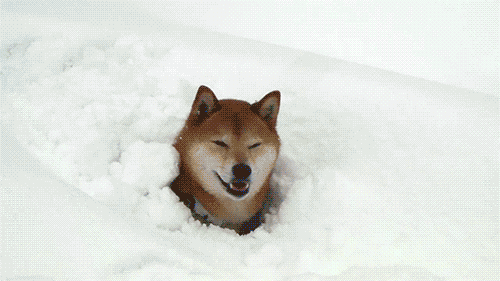 Our dogs give us so much joy, and for some reason they love the white fluffy stuff. Seeing them run around in knee deep snow makes braving the cold worth it. So bundle up, and take the dog for a good walk. This can help you make walks part of your daily routine!
BE A SKI BUNNY AT YOUR LOCAL SKI HILL
There is simply no better way to get your booty exercise in without even realizing you're working out. The (albeit small) ski hills in Ontario aren't a bad way to spend a free day!
Blue Mountain opens mid-December. My girlfriends and I cannot wait!!!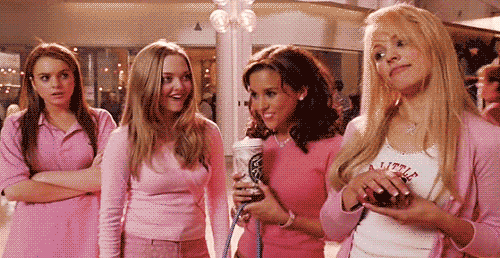 I love snowboarding, and 15 years later, I am so happy I kept up these skills. It's the best work out you can do without realizing you're working out. Skiing and snowboarding can both burn between 300 and 600 calories an hour, but how much exactly depends on how hard you work! Note to reader, taking selfies on the skill hill means 5 cals burned only….
Flying down the hills at an unreasonable pace (with a helmet of course!) only gets better when you end your run with a pint. I am the master of ski and drink (within reason).
Also, if you haven't learned to snowboard or ski before, what are you waiting for?? You're your own barrier. My bestie is learning to snowboard at 28 and has already signed up for a few lessons at some local ski hills starting mid-December!
Get outside, try something new. This girl works too hard during the week to not enjoy the weekend to their fullest. Toronto is just one city that is surprisingly close to many fun and adventurous winter-friendly activities!
Like what you read? Tell me what else do you like to do during the winter, so I can give it a try!
Stay healthy, active and beautiful!
Xxo, Jess